The McCormick House – Past, Present, Future
September 14 – January 12, 2020
This exhibition will present a full domestic presentation in Mies van der Rohe's McCormick House for the first time in the museum's history. The show curated by interior architect Robert Kleinschmidt will present visitors with mid-Century inspired decor as well as historic images showing how residents lived in the home and explanations about the preservation and restoration process currently underway. Further, the walls will highlight a timeline of events and photos dating back to the building's conception, including anecdotes and stories about the home's residents.
Sponsored by Room & Board, with additional support from Chicago Bauhaus and Beyond.
Organized in conjunction with the Chicago Architecture Biennial. Part of Arts DuPage Month.
With special thanks to RDK Design, Dirk and Catherine Lohan, Patrick Szczecinski, Utopio Custom Workroom, Arthur Cantwell III, James Kao, Eileen R Miller, Corey Postiglione, Michelle Wasson, and Michael White.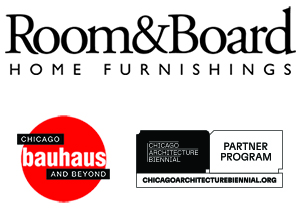 Installation view of McCormick House - Past, Present, Future. Photo: Steven Koch

Installation view of McCormick House - Past, Present, Future. Photo: Steven Koch

Installation view of McCormick House - Past, Present, Future. Photo: Steven Koch

Ludwig Mies van der Rohe, McCormick House, interior view of hall and kitchen, 1950s, Hedrich Blessing Archive, HB17555B, Chicago Historical Society

Ludwig Mies van der Rohe, McCormick House, looking towards the kitchen, 1950s, Hedrich Blessing Archive, Chicago Historical Society

Ludwig Mies van der Rohe, McCormick House, living room, 1950s, Hedrich Blessing Archive, HB17555A, Chicago Historical Society