Wright Before the "Lloyd"
September 10 – February 14, 2021
For a 360 degree virtual tour, interviews, activities, and more visit our Museum From Home page
Free with admission: a socially distanced self-guided outdoor walking tour of Elmhurst's modern architecture. See the exhibit and then tour our architecturally-rich city—the only one with houses by Frank Lloyd Wright and Mies van der Rohe.
Purchase advance tickets here.
At the tail end of the 19th century, a young architect who signed his name as "Frank L. Wright" struggled to find his own identity and the essence of the architect he wanted to be. His explorations continued throughout the time he was in his twenties and flirted with styles that included modernism, classicism, Tudor, Colonial, and Japanese.
Turning 30 in 1897, he found himself. His identity was confidently a synthesis of everything he ever saw, experienced, and learned, combined with the ability to meld all into a vital new architecture that was uniquely his own. With his confident identity came a new name: Frank Lloyd Wright
What followed was the career of one of the world's greatest architects, which continued to evolve over seventy years until his death at the age of 92. But this is the story of Wright before the "Lloyd" – a journey via images and artifacts to portray his eclectic youthful explorations.
Pulling the materials together to tell this story has been challenging. Much has vanished due to demolition, fire, and decay. But to provide visual context, displayed here are original building fragments restored to their original appearance and colors. In cases where fire and decay left only fragments and shards, cutting-edge technologies have been deployed to make the shattered designs whole again.
Curated by Tim Samuelson, Chicago's cultural historian.
Browse our Museum Store for Wright-inspired gift items.
In partnership with the Elmhurst History Museum and their complementary exhibition, Frank Lloyd Wright: Architecture of the Interior October 23 - December 20.
Sponsored by the Explore Elmhurst Grant Program, with additional support from Gigi & James Owens and Francesca DeBiase & Jassem el Mahmoud.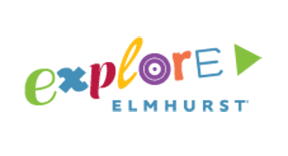 During the early years, the architect signed his name 'Frank L. Wright'; Image credit: Frank Lloyd Wright Preservation Trust

Froebel Blocks, circa1870, Milton Bradley. Photography by Steven Koch.

Wright Before the Lloyd installation. Photography by Steven Koch.

K.A.M. Synagogue installation. Photography by Steven Koch.

Francisco Apartments Installation. Photography by Steven Koch.

Harlan House installation with modern recreation of fretwork. Photography by Steven Koch

Roloson House installation. Photography by Steven Koch.