Wright Before the 'Lloyd'
Discover more about our current show. We will update this page with additional resources throughout the duration of the exhibition.
Through images and artifacts, the exhibition Wright Before the "Lloyd" highlights exploratory work by the young architect, who signed his work "Frank L. Wright". Many original materials were damaged and lost due to demolition, fire, and decay, but fragments were saved and reassembled by Chicago's cultural historian Tim Samuelson. The designs were made whole through cutting-edge technologies to tell this story of Frank Lloyd Wright's early work.
Learn more about how a young Frank L. Wright was inspired by Froebel Blocks. Interview with Tim Samuelson, exhibition curator and Chicago's Cultural Historian
Wright vs. Mies, a free exhibition tour, Suggested donation ($10)
Celebrating Frank Lloyd Wright, an introduction by Tim Samuelson, exhibition curator and Chicago's Cultural Historian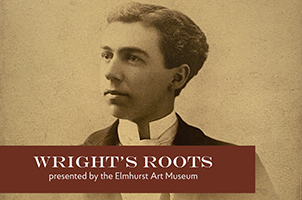 Virtual Talk: Wright's Roots by Tim Samuelson, Chicago's Cultural Historian, Register, and get your code here.

Wright Before the "Lloyd" was featured on WGN 'Around Town' with Ana Belaval.

Curator and Chicago's Cultural Historian, Tim Samuelson, in an interview with Chicago's WTTW.
The museum recently held a Chalk the Lot community event with Frank Lloyd Wright-inspired designs. Scroll below to view pieces created by the community and then download the instructions on our Museum From Home page to learn how to do this project on your own sidewalk or driveway.
Click here to buy advanced tickets to the exhibit - which includes a free architecture walking tour - and learn more about our COVID protocol before your visit. Visit our Events page to register for a virtual lecture or upcoming programs inspired by this exhibition.
If you enjoyed this content, please consider supporting the museum through Frank Lloyd Wright merchandise, a membership purchase, buying an Art-ivity pack to do at home, or donating to help our critical operating costs. Your support directly impacts our vital efforts to enrich generations and build a stronger community.
Wright Before the"Lloyd" downloads
---
Chalk the Lot designs inspired by Frank Lloyd Wright. September 2020.

Incorporating current events and Wright designs at Chalk the Lot. September 2020

Chalk the Lot designs inspired by Frank Lloyd Wright. September 2020

Portrait of Wright, our inspiration for Chalk the Lot. September 2020

Our community sharing their Wright inspired designs at Chalk the Lot. Photography by Stephen Koch.

Chalk the Lot participant, Photography by Steven Koch.

The title of the show, each letter inspired by Wright's designs. Chalk the Lot, September 2020

Chalk the Lot design, inspired by the Loeb Apartment Lion work in the exhibition. September 2020